I made this crate from pallet wood I had and 3 Mason type jars that I bought at the grocery store, that once contained spaghetti sauce.
To get the correct length to cut, I put the jars right on a piece of wood and put some scraps between to represent the dividers, allowing just enough space to fit the jars in with a bit of room on each side. For my jars the length was 12 1/2″.
I used the full width of my wood (it is 3 5/8″) so that is the height of the crate as well as the inside bottom width.
I placed one board on the bottom and the two upright sides and measured to get the size of the end pieces. I cut those and also the middle dividers which fit between the sides. I used a pin nailer to attach the parts together.
I applied a quick coat of my vinegar and steel wool mixture and let that dry, then I dry brushed white paint over the top. After that I hand painted "Les Fleurs" on one side and "Flowers" on the other.
I sold this crate, along with the jars and the flowers shown, at the first Farmers' Market I took it to. So many of my items have gone to the market and home again many times and this sold only a few days after I made it. Wish I could figure out what people want… I'm not sure if I should make another one?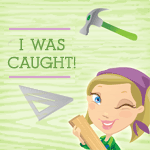 Sharing at the following blog parties: